10 Best Solar Battery Manufacturers in India ( 2016 – 2017 )
Getting solar panels installed on your houses to minimize the global carbon footprint is the latest fad these days and you too, most probably, have also thought of getting a battery from one of the best battery makers in the domestic solar energy market.
A new study, however, notes out that these solar batteries have a few benefits, but when it comes to power consumption and actually controlling carbon emissions, these are unfortunately a wash altogether.
We have compiled the top 10 solar battery makers in India that are as follows:
Also Read : Top 10 Solar Battery Manufacturers in USA
Exide batteries
Exide has created a niche and has enjoyed being one of India's most reliable brands for almost six decades now. The firm has witnessed unrivalled reputation almost since its commencement. Exide manufactures batteries for photovoltaic (PV) applications and these have been designed in such a way that they deliver high-cycling performance even under tropicalised environments.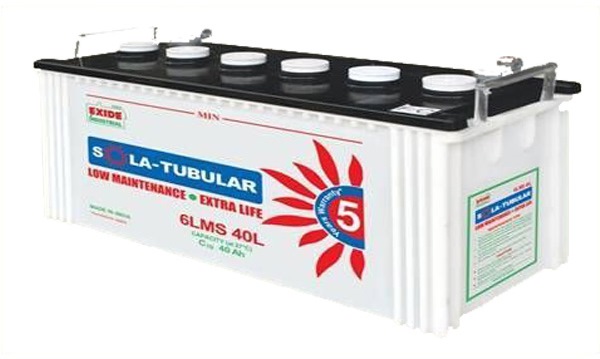 These batteries are produced in the supervision of experts at Exide using state-of-the-art facilities. Exide solar batteries are designed for efficient storing of energy and providing power optimally whenever required. Notably, Exide makes batteries that can withstand daily charge-discharge cycle, while being able to work in even partial charged condition and also recharge fast.
Moreover, Exide is also engaged in designing, manufacturing, selling and promoting a range of lead-acid storage batteries world-wide. Their batteries range from 2.5Ah to 20,600Ah capacity, and are manufactured in a way that they often cover a broad spectrum of applications.
The firm has been manufacturing  solar and lead-acid batteries for industries such as the automotive sector, power sector, telecom sector, infrastructure projects, computer industries, along with railways, defence and mining sectors.
Okaya batteries
Okaya is a reliable household name when it comes to making automotive battery, inverter battery, solar battery and SMF battery. Their expertise lies in manufacturing tamper proof and leak proof batteries, their products are heat-sealed with intelligent air-tight construction.
Okaya has employed high-efficiency grid plan along with latest 'glass mat and PE envelope separator technology, which enables their batteries to pack in more power and deliver a longer life than their peers.
Luminous batteries
Luminous Solar Batteries has been one of the famous names amongst battery manufacturers with their expertise in C10-rating deep-cycle batteries, which are especially designed for longer power backup.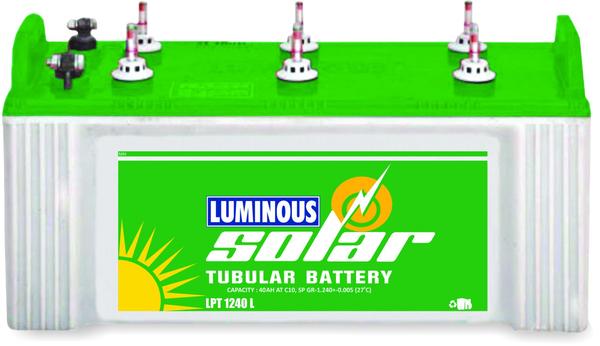 Luminous batteries' rating start from 20Ah to 200Ah coupled with three years and five years of warranty.
Also, Luminous power technologies is one of the biggest names in home electrical specialists in the country.
They have been pro in making home UPS systems, inverter batteries and solar applications.
Relicell battery
Headquartered in Bangalore, Relicell is a known name in the solar battery making industry and they are the makers of great quality. Their batteries are also maintenance-free. Relicell employs a special gel electrolyte to make these batteries. They mix acid electrolyte with pyrogenic silica to make these solar batteries. This method renders long life to their batteries.
The makers at Relicell use pasted plate grids, usually, with a big surface area with grids that are cast from a special formulation of lead, calcium, tin, and silver alloy that provides high resistance against corrosion; it also gives a special micro-porous synthetic separator.
Relicell solar batteries are especially designed to operate in environmental conditions in the India, Africa and most regions of South East Asia.
The noteworthy specifications of Relicell batteries are as follows:
These have a design life of 10 years when operated at 27°C.
High-purity alloy made of lead, calcium, tin, and silver provide effective rust resistance.
Phosphoric acid is added in these solar batteries for improved cyclic life.
The presence of silica gel composition results in very low thermal runaway effect.
Artheon battery
Artheon battery is one of the firms of the Artheon Group that has been engaged in the field of manufacturing as well as distributing SMF-VRLA batteries. Artheon manufactures batteries under a joint venture with USA's North Star Battery Company LLC.
Artheon has a vast manufacturing unit at Nasik in Maharashtra and has a well-equipped manufacturing-cum-testing facility for SMF-VRLA batteries.
Su-Kam batteries
Su-Kam, an eminent name in the power sector, also makes solar batteries, which are designed for use with Su-Kam Solar Systems.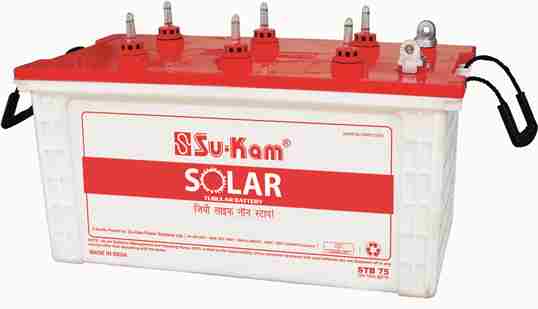 The batteries' operating life in the solar Photovoltaic systems is a function of the operating temperature, the duty cycle, the depth of discharge, the charge control and the cell design. Su-Kam's solar batteries have been made to neutralise higher average operating temperature that usually decrease life, and the number of available charge-discharge cycles decreases.
Base batteries
Base forayed into producing solar batteries to power solar panels. The USP of Radiance batteries is their fast-charging capacity and low discharge rates. These can also be accommodated to suit a wide range of PV panels.
Base batteries are known to be low maintenance with a minimum topping-up frequency. Base makes batteries that can be comfortable during high temperature applications.
Southern batteries
The expertise of Southern battery manufacturing units lies in manufacturing solar batteries from the lower end to higher end. The manufacturers use advanced technology for designing and making high-end Southern batteries.
HBL Power Systems Ltd
HBL Power Systems Ltd is a listed Indian company, and has been in the business of battery making since 1977.
The firm has been providing one-stop solution for solar panels, solar structures, inverters (PCU's), solar battery and EPCs.
Headquartered in Hyderabad in India, HBL has in-house manufacturing capacities for many parts of the solar energy systems.
Gem batteries
Gem batteries optimally uses the photovoltaic (PV) technology to provide off grid solar applications that utilise battery storage.
Gem batteries is one of the leading cell and module technology providers in the domestic market that is backed by 25 years of performance warranty.
Share this article
>