Pineapple-spinach smoothie for weight loss [Without banana]
Weight loss juice are those juices that help you increase the metabolic rate of the body and there by help in reduction of the fat. In that case those juices should not only be concentrating on weight loss but also gives the body nutrition and make it healthy. Here we are going to see about Pineapple spinach smoothie without banana & its benefits.
This is rather a smoothie than a juice. Thus, it is a weight loss smoothie. Smoothies are more filling than juices and is more fiber rich when compared to juices. Even though juices are nutrient rich it leaves all fiber content that help in digestion.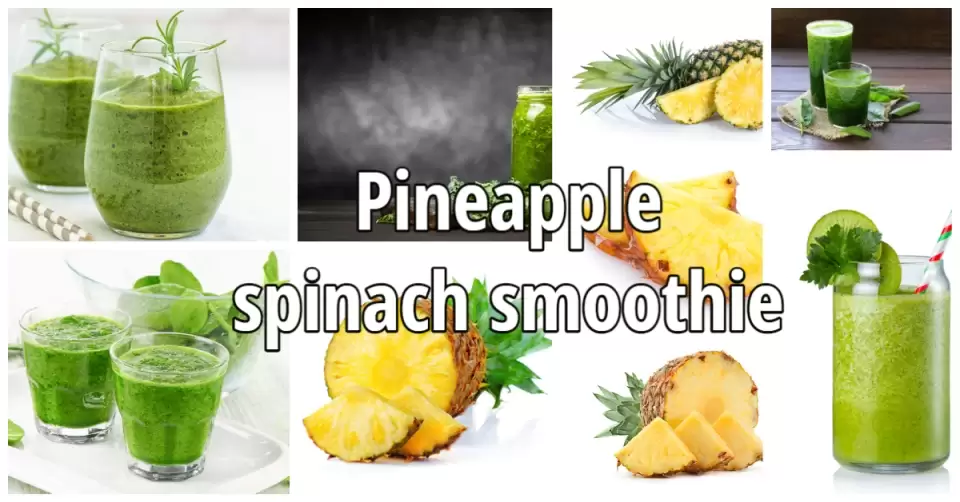 Let us see how to make this Pineapple spinach smoothie.
Ingredients
Pineapple – 3-4 slices (cleaned)
Apple- half an apple (skin peeled)
Gooseberry- 1 or 2
Cucumber- 1 (peeled and sliced)
Spinach – 6-7 strands
Water- as required
Method:
Blend all these ingredients together in a blender and add as much as water as per your requirement. Having this smoothie fills your stomach considerably. When you are on a diet, consuming this smoothie in the morning and afternoon will help you feel full along with providing nutrients and roughage. This is an excellent fat cutting smoothie as well. The enormous benefit of this always make this rank high while you are on diet.
Benefits of pineapple-spinach smoothie
All the ingredients in this smoothie are nutrients rich. Therefore, when they come under a single umbrella it is going to be the best nutrient rich smoothie. Firstly, we shall look in to the benefits of each ingredient separately and then will look into the benefits of the whole smoothie.
Pineapple: this delicious fruit is so unbelievably packed with antioxidants, nutrients and enzymes. These contents boost your immunity and also fight inflammation. It contains vitamin A, manganese, calcium, zinc, vitamin C, vitamin K etc and thus it is good for bones, skin, and hair. The manganese content of this fruit helps you give strong bones. Pineapple helps in slowing down the cell damage thereby making us look younger if consumed daily and the same property help in preventing cancer. It has anti-ageing properties and also treats acne. The has essential nutrients that enhance the hair follicles and thus improve the thickness of hair, elasticity and make hair softer and shinier.
Apple: as the saying goes, an apple a day keeps the doctor away. This nutritious fruit contains water and soluble fibre. Thus, this content makes it great for weight loss and the fibre which is soluble makes it good for heart health. It is also good in protecting us from diabetics, cancer, asthma and other inflammatory diseases. Apples are good enough to give you glowing skin and keep your skin hydrated. Also slows the aging signs.
Gooseberry: these small fruit hails from the berry family which are a source of nutrients. It contains sodium, potassium, protein, carbohydrates, fibre and fat. It is almost unbelievable that this small berry hides in so much contents. It has the capacity to enhance the metabolic rate and immunity. It helps in controlling blood sugar and along with it, it protects your brain and heart. It acts as a good remedy of premature greying, promotes hair growth and prevents dandruff. It is also a good skin toner and has got anti-aging properties.
Cucumber: when we think of cucumbers, we feel a coolness within us. It contains magnesium, vitamin k, vitamin c, potassium and manganese. They work well for the immune system, eyes and bones. The cucumbers are one of the best detoxifiers and it is helps liver and kidney to flush out all toxins. As they are too low in calorie and is rich in roughage, it aids in digestion and also good in losing belly fat. It helps in regulating blood pressure and sugar. This beauty enhancer makes your hair and nails healthy, eliminates bad breath and fight cancer.
Spinach: this green leafy vegetable is considered to be a "super food". You know why? Because it is rich in iron, calcium, vitamin A, vitamin K, vitamin C, potassium etc. If you are anaemic, then this is that food that help you rise in your haemoglobin. It helps in maintaining the blood pressure, controls blood sugar, helps in boosting the metabolic rate, gives you strong bones and teeth, reduces hypertension, enables the brain to function normally and what not this wonder food can do. In addition, in aids in weight loss as well.
It would be surprising to understand the enormous benefits of these ingredients. Now, we shall look in to the advantages of the pineapple spinach smoothie as a whole:
It makes us feel full: When consumed it makes us feel full and there will be no room for cravings. Hunger and cravings are different as we all know.
Reduces weight: the ingredients of the smoothie have the property of enhancing our metabolic rate. An increased metabolic rate help in shedding off weight easily.
Help in reduction of tummy fat: as discussed earlier, cucumber helps in reducing tummy fat and as it is a main ingredient to it, it reduces the tummy fat. The enhanced metabolic rate and elimination of all waste from the body also help in tummy reduction.
Detoxify body: the detoxifying property of the smoothie helps in detoxify the body and all toxins of the body are flushed out of the body. It helps in detoxifying our liver and helps kidney to flush out all waste in the body.
It reduces bloating and gastritis: the fibre rich properties of all ingredients in the smoothie helps release all waste and detoxify the body. In addition, they aid in good digestion and thus there will be no gastric issues or bloating.
Helps in eliminating constipation: constipation is one of the major issues faced by most of the people and this is an absolute remedy for it. This smoothie is the best remedy for it as it eliminates any severe constipation and flush out all the waste.
Provides your body with all nutrients: the ingredients in the smoothie are so rich in nutrients and thus it provides us with all minerals and nutrition required. It can be thus named a complete meal also.
Helps in absorption of all nutrients from other food: this not only helps in providing us with all required nutrients and minerals but also make the body ready for absorption of nutrients and eliminate all hindrances that block the nutrient absorption.
Ease stomach ulcers, if any: ulcer is a sore that develops in the stomach or oesophagus due to several reasons. This smoothie helps in easing the smoothie is not harsh, aids in digestion and is fibre rich.
Helps in good growth of hair and nails: the calcium content in the smoothie helps in the hair growth and nails. Moreover, the minerals and nutrition in it help in making the hair smoother, softer and thicker. It will also make the nails stronger.
Gives us a glowing skin: once our body is detoxified it automatically gives a glow to the skin and make us look brighter. The properties of the ingredients have acne removal capacity and a brighter complexion.
Gives us stamina: the fat reduction is happening on consumption of the smoothie and all nutrients are being correctly absorbed, that will make the body perfect. While all functions are correctly happening, the stamina will also be increased.
The perfect smoothie for those who wish to reduce weight and also for that health watchers who wish to have nutrient rich diet without increasing weight.
Disclaimer: These recipes and juices are not medical prescriptions. It depends on the individual and their health condition, whether it will suit you. Any allergy to the ingredients shall be the responsibility of those who use it. The responsibility vests on the persons who try to use these, and not us.
Share this article
>