Top Solar Inverter makers in the world ( 2016 – 2017 ) Germany's SMA leads world solar inverter market by revenue
Regular government initiatives and subsidies offered for the solar industry in various countries, as well as a decline in the average installed cost of photovoltaic (PV) systems, have led to a growth in solar power generation globally.
What has also helped is the growing realisation that solar PV is the best alternative to fossil fuels.
Today, says US-based market analyst GMT Research says, the global installed capacity is expected to reach 107.10 GW by 2019, growing at a CAGR of 21.62%.
All these factors have combined together to also have a trickle-down effect on the PV inverter market, which GTM says was $5.8 billion in 2016.
Global Inverter Market Overview
More light is thrown on the segment by the American research firm GTM Research in a report titled "The Global PV Inverter and MLPE Landscape 2016".
According to it, the PV inverter market, in the first half of 2016, kept on growing more concentrated along with getting mature.
Moreover, GTM said, 80% of global shipments in the first half of last year was accounted for by the top ten solar inverter vendors; this was the highest mark reached by the top 10 in any given year since 2010.
Citing the case of Ingeteam, the Spanish vendor that acquired the PV inverter business of Italy's Bonfiglioli in June 2016 to push its global expansion, GTM said it also expected M&A activity to continue in 2017.
GTM also warned that PV inverter sales would decline 5% in 2017 on the back of falling demand in the three of the largest solar markets – China, the US and Japan.
The report pointed to the rapidly falling micro-inverter pricing, coupled with the growing popularity of inverter technology of the 1,500-volt as well as string inverters of higher power density as the key drivers for the descending pricing trend in general.
Alongside, as per GTM's readings, South America, West Asia and Southeast Asia will emerge as the fastest growing regions through 2021, with each region growing at more than 25% annually over this period.
The two ranking segments
GTM has the broken the rankings of PV inverter makers in two segments, one is in terms of shipments made in the first half of 2016, and the second in terms of revenue.
In shipments, the top two slots were held by two Chinese companies, Huawei and Sungrow, both of which grew their global market share over the first half of 2016. The third slot was held by SMA solar of Germany.
This, GTM said, was "due to leadership in world's largest solar market, China; roughly 90% of each company's shipments are to that market."
However, it said, SMA Solar held the lead in terms of global revenue rankings its earnings being "bolstered by its leading position in the US market".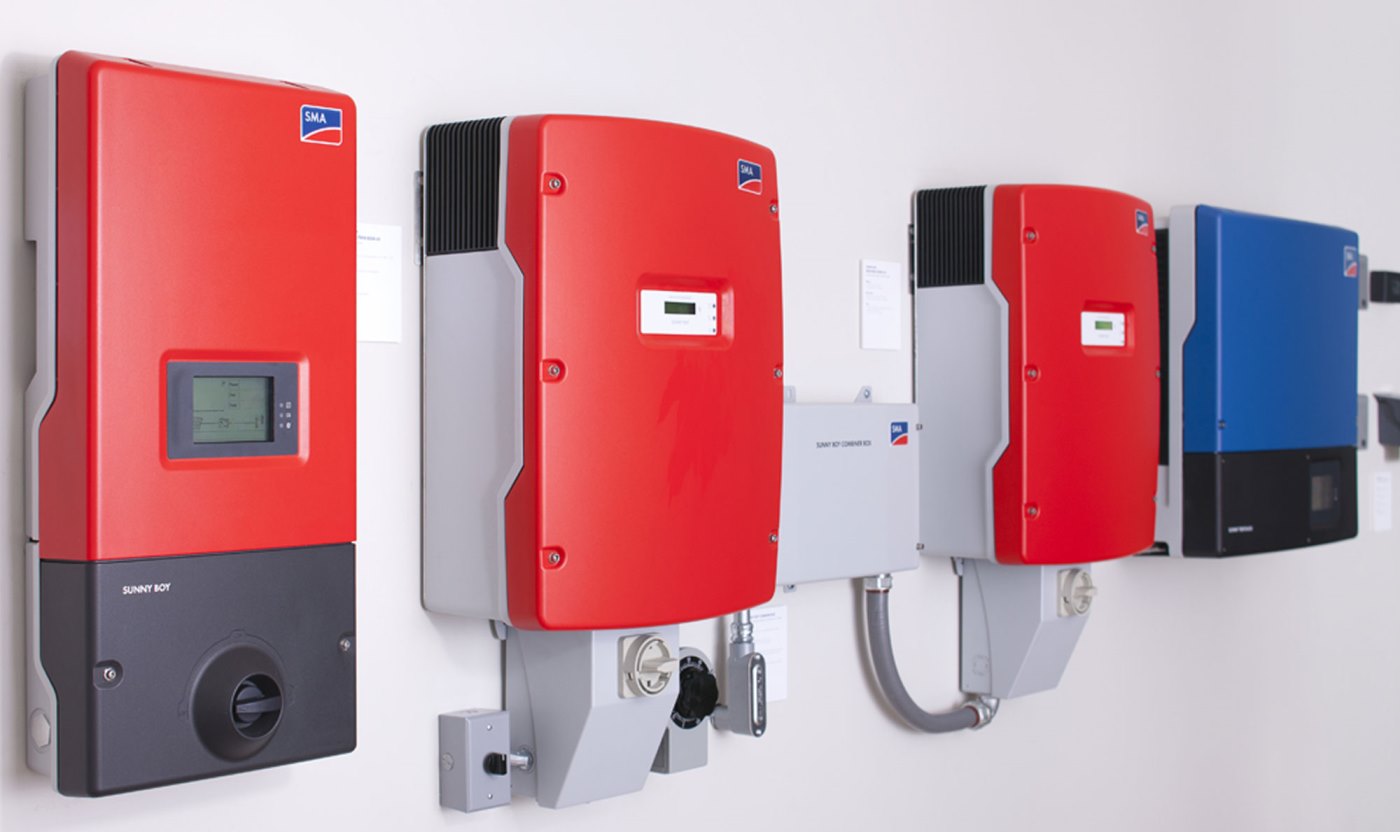 Revenue-wise, Huawei was second with Sungrow a distant sixth, behind TMEIC (at third), SolarEdge Technologies (fourth) and ABB (fifth).
The top 12 in GTM's revenue rankings are: (1) SMA Solar (2) Huawei (3) TMEIC (4) SolarEdge (5) ABB (6) Sungrow (7) Schneider Electric (8) Enphase (9) Omron (10) Fronius (11) Sineng (12) General Electric.
"Others" made up rest of the ranking table, GTM said.
The Top-12 (revenue-wise)
SMA Solar Technology AG, Germany

Located in Niestetal in the state of Hesse, the SMA Group is easily the flag-bearer in terms of revenue worldwide, with a turnover of about €1 billion in 2015 from operations in 20 countries, employing more than 3,000 people worldwide.
According to the "PV Inverter Customer Insight Survey 2016" by IHS Markit, SMA was voted the most preferred inverter brand in the world by all customer groups, which chose SMA for its quality, technical support and service.
Huawei Technologies, China
Headquartered in Shenzhen in Guangdong province, Huawei is more well-known globally for its products in the ICT and mobile telephony space.
However, vigorous marketing of its three-phase, low-power inverters in the utility-scale segment has not only pushed it to make the most shipments in the world, it also pushed it to the No 1 position in the Chinese market. 
TMEIC, Japan 
The Tokyo-based company is a joint venture between Toshiba Corp and Mitsubishi Electric, which involved several rounds of integration of related divisions that began in 1999 and ended in TMEIC being formed in 2003.
TMEIC has four main engineering divisions, one being the Power Electronics System that makes power converter devices.
SolarEdge Technologies, Israel
SolarEdge Tech, headquartered in Herzliya, Tel Aviv division, signed an agreement with Tesla Motors of the US jointly develop PV storage and backup power solution for the residential solar sector,
The $489 million company's inverters come in two varieties: single-phase inverters with output in the 3,000-6,000W range, and the three-phase inverters with output in the 7,000-17,000W bracket. 
ABB, Switzerland
Based in Zurich, the robotics and technology major boasts of a heritage of over 130 years operations across the world including India, where it is headquartered in Mumbai.
With over 40 years of experience in the solar inverters sector, ABB has one of the broadest solar inverter portfolios in the industry, the range covering small micro-inverters, the three-phase string inverters and megawatt-sized central inverters.
Sungrow Power Supply, China
With offices in various parts of the world including India, Sungrow's 14GW PV inverters have been installed globally, while in 2013, its 30kW string inverter was ranked the best in its category by Photon magazine, and its 20kW the fifth best.
Headquartered in Hefei in eastern China, Sungrow is known for its central inverter, string inverter, storage system, PV solutions and storage solutions.
Schneider Electric, France
About 15 years old, Schneider Electric Solar offers a products relating to photovoltaic integration and connection including power conversion (inverters, transformers and switchgears).
Part of the over 180-year-old French multinational Schneider group, which is located off the western suburbs of Paris, it was formed  after the parent company entered the solar inverter sector after acquiring Canadian inverter manufacturer Xantrex in 2008.
Enphase Energy, USA
Co-founded in 2006 by former Indian Institute of Science engineer Raghu Belur, energy technology company Enphase Energy is headquartered in Petaluma, California.
The inverter range from $344 million Enphase includes sine wave inverters, full sine wave inverter chargers, modular inverters and inverters tied to the grid.
Omron Corp, Japan 
Established in 1933 in Kyoto, Omron's business imprint spans a wide spectrum – industrial automation, electronic components (both industrial and automotive), social infrastructure systems and environmental solutions including photovoltaic systems.
In the green space, it manufactures PV inverters, battery systems and other key energy components for residential, commercial and industrial markets.
Fronius International, Austria
Named after its founder Günter Fronius, the Pettenbach, Austria-based company is known for its grid-connected inverters that work with all standard solar modules.
Its Sunrise solar inverter is a winner of the "Innovation Prize" offered by the Province of Upper Austria. 
Sineng Electric Co., China
Located in the industrial city of Wuxi, Jiangsu province, Sineng Electric is engaged in manufacturing power conversion and control of power electronics products, and is a major name in China's PV inverter sector.
Its products include PV grid-connected inverters and storage bidirectional converters. It has also established a PV Inverter Engineering Technology Research Center in Jiangsu, China's only one.
General Electric, USA
Known worldwide as GE, General Electric is a $140 billion conglomerate with a footprint in the solar power sector – apart from interests in lighting, oil and gas, health, finance, power and aviation among others.
GE is known for its solutions for utility-scale PV power plants, and makes 700Kw- and 1Mw-output inverters. It was the first to launch the 1,500V inverter technology in 2012.
Other Major Manufacturers
Samil Power, China
Located in Suqian in China's Jiangsu province, products include micro inverter, string inverter, medium power inverter, centralized grid inverter as well as American models with further US models under development.
Samil Power also has some products on offer which are known to utilize battery storage for on and off grid applications. These are mainly meant for energy storage market.
Kaco New Energy GmbH, Germany
Another leading name in solar inverters globally, Kaco is headquartered in Neckarsulm near Stuttgart, and has produced inverters with a total capacity of around eight GW since 1999.
Kaco's inverter range include new three-phase models launched in 2016 – the Blueplanet 8.6 TL3 and the 10.0 TL3, which are suitable for residential and commercial-scale PV systems, and the Blueplanet 20.0 TL3 that meets the needs of commercial systems as well as industrial-sized power plants.
Advanced Energy Industries Inc, USA
The Fort Collins, Colorado-headquartered firm has been engaged in the business of power conversion and control technologies since 1981.
Its PV-powered string inverters, which are for residential use, have outputs of 2 to 5.2Kw, while its "Solaron" range of commercial- and utility-scale inverters boast of output of up to 500Kw.
It has business interest in North America, Europe and Asia including India.
Selectronic Australia, Australia
Headquartered in Muroolbark, Victoria, Selectronic Australia manufactures PV inverters such as the multi-mode inverter that manages various facets of energy needs.
Its SP PRO brand of inverters is designed to suit both standalone off-grid as well as grid-connected solar hybrid installations for residential, commercial and industrial needs.
Solar Australia, Australia
Solar Australia, founded in Newcastle, New South Wales in 2006, was originally named Solar Newcastle, but rechristened itself as it forayed into the Central Coast, Greater Hunter and Port Stephens regions in the state. It is one of Australia's first solar companies.
Solar Australia is attempting to rewrite the inverter business by making storage batteries with in-built inverters to build a base outside the grid.
Kstar New Energy Co., Taiwan
Located in New Taipei City, KStar manufactures on-grid PV inverters in a series. These are from roof-top solution and include single phase 1.5KW, 5KW as well as medium-size power plant.
It also offers products such off-grid hybrid interactive inverters, solar charger as well as wind and fuel cell inverters.
TBEA Sunoasis Co, China 
Based in Urumqi, Xinjian province in China, the company was on sixth on GTM's Top-12 list by way of shipments made in the first half of 2016.
The company manufactures and sells photovoltaic solar modules and inverters for on- grid solar power plant projects.
Delta Electronics, China 
The $7.5-billion Delta Group of China, which is into power products, makes PV inverters as well as a complete range of wind turbine converters. The company says its PV inverters deliver "industry leading efficiency" of up to 98.8%.
Share this article
>