Top 10 Solar Inverter Manufacturers in India
As the bold line of our dependence on energy sources gets crossed day by day, an alternative approach is required to a great extent, an approach of an incredible idea of depending on an unlimited resource that could provide a means of achieving the desired requirements of the consumers. This mainly refers to the Sun's energy which gets converted to a utility frequency alternating current through a photovoltaic solar panel. Solar inverters play a significant role of using the resources already available at the cost of nothing. Where the world has turned towards art and smart, this piece of invention turns the aim of lowering costs to a whole new different level. The quantity and quality of everything matters in the world where competition rises with a guarantee of nothing at hand. A stratification of the quality can be observed on the basis of the company that manufactures the device.
The type of solar inverter also needs to be taken into account as different types involve different mechanisms which in turn affect the efficient usage of the appliance.
String inverters
Central inverters
Micro-inverters
Battery-based inverter
However, manufacturers in India did not leave any stone unturned to achieve the objective of this platform. The top 10 famed companies in India with an aim to promote the utilization of solar energy for domestic and industrial purposes include: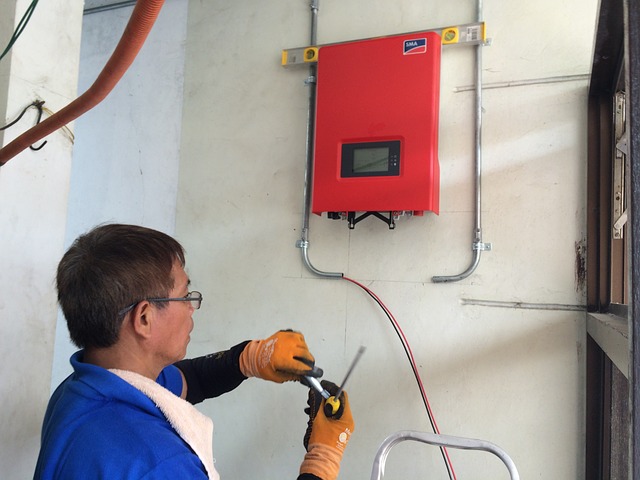 DELTA ENERGY SYSTEMS:
With an aim to provide innovative, clean and energy-efficient solution for a better tomorrow, this company focuses on reducing environmental impact of our needs. Based in Taiwan, it has spread its wings in countries like India, China, Europe, USA, Thailand, Japan, Brazil and Mexico. Founded in 1971, it has manufactured two types of solar inverters called Solivia Central inverters, which is well-suited for all types of solar modules and utility-scale PV plants and Solivia string inverters, with an output power ranging from 2.5kW up to 600kW.
SMA SOLAR INVERTERS
SMA fuses reliability and efficiency to inculcate solutions for all photovoltaic applications. Be it residential needs or commercial complexes, this big daddy has power plants as well as PV diesel hybrid to take care of other needs too. As far as the inverters are concerned, SMA India was one of the first large solar PV plant was driven with SMA central inverter in 1996. With its headquarters at Germany, SMA India combines latest technological inventions with optimized power plant design to result in inverters which additionally are tested in stringent environmental conditions certifying the life of the product and its dependability. They range in products with their capacity from 460W to 10kW for residential supplies.
SU-KAM SOLAR INVERTERS
As per a report issued by Bridge to India, Su-Kam has a major stake in residential solar market of India. Su-Kam is still one of the largest domestic manufactures as far as solar inverters in India are concerned. It holds a record for filing 100 patents. It has manufactured over 200 different products to serve interests of residential, commercial and industrial applications from 30W to 30MW. In its range of solar products, Su-Kam has manufactured the eminent Grid-tie solar inverter which is available from 1.5kWP-20kWp and Solar sine wave inverters. Su-Kam has also collaborated the features of online UPS and solar power conditioning unit to create India's first static solar UPS, Brainy S, with an in-built 30 amp solar charge controller.
KACO NEW ENERGY
In 2006, the Kaco New Energy was the first manufacturer to produce its solar PV inverters with negligible CO2 emission. Its solar inverters also consist of being used at various levels in the economy. The blueplanetUltraverter system is a simple, strong and universal idea that combines the best features of DC optimizers, string inverters and micro-inverters as a whole to one idea that proves the devise effective. Its PV inverters also range from residential to commercial and utility scale PV systems.
LUMINOUS SOLAR INVERTERS
With its foundation at New-Delhi, Luminous inverters have got a grip at both grid tied inverters and sine-wave inverters. It has its products with a choice of wattage in under 500W, 850W and 1500W. Its sine wave inverter has serves up to 85% efficiency. This manufacturer also helps ensuring solar installations deliver optimal performance for Rooftop, SOHO and Residential and CSR applications.
MICROTEK SOLAR INVERTERS
Microtek International is another giant that has set up its outlet in India. Its solar inverters include the UPS Solar SS1130 and UPS Solar SS1660. The SS1130 has its range up to 500W while the SS1660 has a better power of 1000W for getting the maximum benefit from the Sun with low-cost electricity consumption. Both of products are packed with highly efficient transformers with a facility of fast charge and consequently conserve energy. The additional bypass switch gives the user an access to detach UPS from the mains. Microtek is yet an emerging solar manufacturer with distinct goals for better products in future.
ABB SOLAR INVERTERS
Another large hand in the industry is the ABB Pvt. Ltd. With its varied products manufactured in residential, commercial and industrial platforms, ABB stands for making micro-inverters, central and string solar inverters. With Single Phase string inverter ranging from 2-6kW, ABB India has also manufactured three phase string solar inverters with its range from 5 to 33kW.
SUNGROW INVERTERS
Sungrow emerged first as a power supply company in late 1997. In 2014, The global PV inverter shipments hit 4.23GW creating a historical high point. Through the years ahead, Sungrow managed to top as the No.1 in global PV Inverter shipment in 2015. Since 2002, Sungrow has been exporting its PV interters abroad. Its deployed solar inverter products include both the Central and String Inverters with 99% inverter efficiency. They also offer different models in both the kinds of inverters.
HITACHI SOLAR INVERTERS
Topped third among the manufacturers of Solar inverters in India, according to reports submitted by Bridge to India, Hitachi Pvt. Ltd. was founded in the year 1983 , a pioneer in power electronics as well. They manufacture grid-tied solar inverters with reactive power control and high efficiency. Their invertersare fully compatible with Thin Film and Crystalline PV Modules. They have Low Voltage Ride ThroughFunctionality and with operating ranges of 500 kW, 630 kW, 670 kW, 715 kW, 1 MW and 1.25 MW. Those inverters have a lifetime of 25 years that is commendable.
TMEIC SOLAR INVERTERS
TMEIC is another manufacturer of inverters in India. According to the BOI report concerning Solar inverters, TMEIC improved its rank from 3rd to the 2nd. It has manufactured five inverters including Solar ware Samurai, Solar ware 630, Solar ware 500, Solar ware 250 and Solar ware 100. The former is a central inverter and is the first 1500V inverter to be certified (UL1741). The operating range of this product is from 50 to 1300V. The rest of the products manufactured here are of comparatively lower ranges with advanced multilevel systems.
Share this article
>