What is Hepatitis A disease and its homeopathic prevention
Hepatitis A is an infection of liver formerly known as "Infective" hepatitis or epidemic jaundice, caused by hepatitis A virus. Although mortally is less (0.1%) patients may be incapacitated for many weeks.
Incidence & Prevalence: Exact incidence difficult to calculate due to high proportion of asymptomatic case4s however according to W.H.O. it is 10-50 persons per 1,00,000 population per year.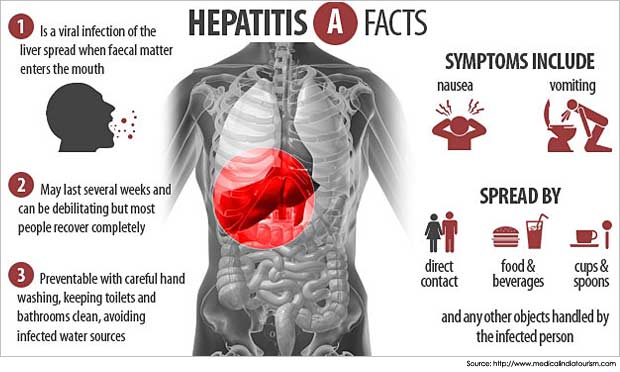 Agent: Hepatitis A virus is an enterovirus, which multiplies only in hepatocytes. Faecal shedding of virus is at its highest during the later part of incubation period & early acute phase of illness. The virus is inactivated by ultraviolet rays, by boiling for 5 minutes & autoclaving. It withstands heating & routine chlorination. However, it is destroyed in water by super chlorination (1 to 1.5 ppm chlorine levels).
Host: more frequent among children, but affects all ages if infected. Both sexes susceptible. Immunity after attack probably lasts for life.
Environmental: Associated with heavy rainfall. Poor sanitation & overcrowding favors the spread.
Mode of transmission: Major route is faeco oral transmission (direct from person to person or indirectly from contamination of water, food or milk. rarely can be transmitted from parenteral route (blood & products or skin contamination & sexual route).
Incubation period: 15-45 days
Clinical features: Nonspecific symptoms like fever, chills, headache, fatigue, generalized weakness followed by anorexia, nausea, vomiting, dark urine & jaundice. Many cases are subclinical or asymptomatic.
Diagnosis: demonstration of HAV particles or antigens in the faeces. Demonstration of a rise in anti HAV titre. Detection of ig M antibody to HAV.
Prevention & containment:
Primary:  i) Personal & environmental sanitation.  ii) Vaccines:- 4 inactivated vaccines currently available, are given parenterally, in 2 doses, 6-8 months apart. iii) Human immunoglobulin:- is given to susceptible population traveling to highly endemic area and to the close personal contacts of cases. It is also given to susceptible persons during an out break in institutions.
Secondary: Control of reservoir: it is difficult because of faecal shedding of the absence of specific treatment, notification, disinfection of faeces & fomites, health education are the measures advised.
Homeopathy prevention steps for Hepatitis A :
Promoting personal hygiene: Education of people, about hand washing, before eating & after toilet. Advise boiled water for drinking purpose especially during epidemics.
Promoting community hygiene: Education about sanitary disposal of excreta, which will prevent contamination of food, water or milk.
Ensuring purification of water supply. 1 mg/liter of free residual chlorine can cause destruction of virus 30 minutes at ph value of 8.5 or less.
Collection of water, food & milk samples in the area to confirm the epidemic.
>